Bookkeeping can be a rewarding career choice for anyone with an eye for detail and a keen interest in numbers. It allows for a great deal of flexibility in terms of job location and industry, and bookkeepers tend to be in high demand.  
Bookkeepers today make use of modern technologies to maintain the financial records of a business or organisation. From managing budgets and payroll to preparing financial reports to communicating with clients, the role of a bookkeeper can be highly varied. 
Wondering how to become a bookkeeper in Australia? Read on to learn more about the requirements, responsibilities, and salary of a bookkeeper.
How to become a bookkeeper
Although no formal qualifications are required to work as a bookkeeper in Australia, it's still important to learn the fundamentals of accounting and bookkeeping. 
A bookkeeper's role may include setting up accounting systems, preparing business activity statements and financial reports, managing payroll and operational budgets, and producing business documents.
With a Certificate IV in Accounting and Bookkeeping you will gain all the skills necessary to kickstart your career as an accounts officer or freelance bookkeeper. It's also a great way to prepare for managing your accounts as a small business owner.
Bookkeeping salary
The bookkeeper salary is highly dependent on an individual's qualifications and skills as well as years of experience and the demands of the specific role. On average, an adult bookkeeper working full time can expect to earn around $1234 per week.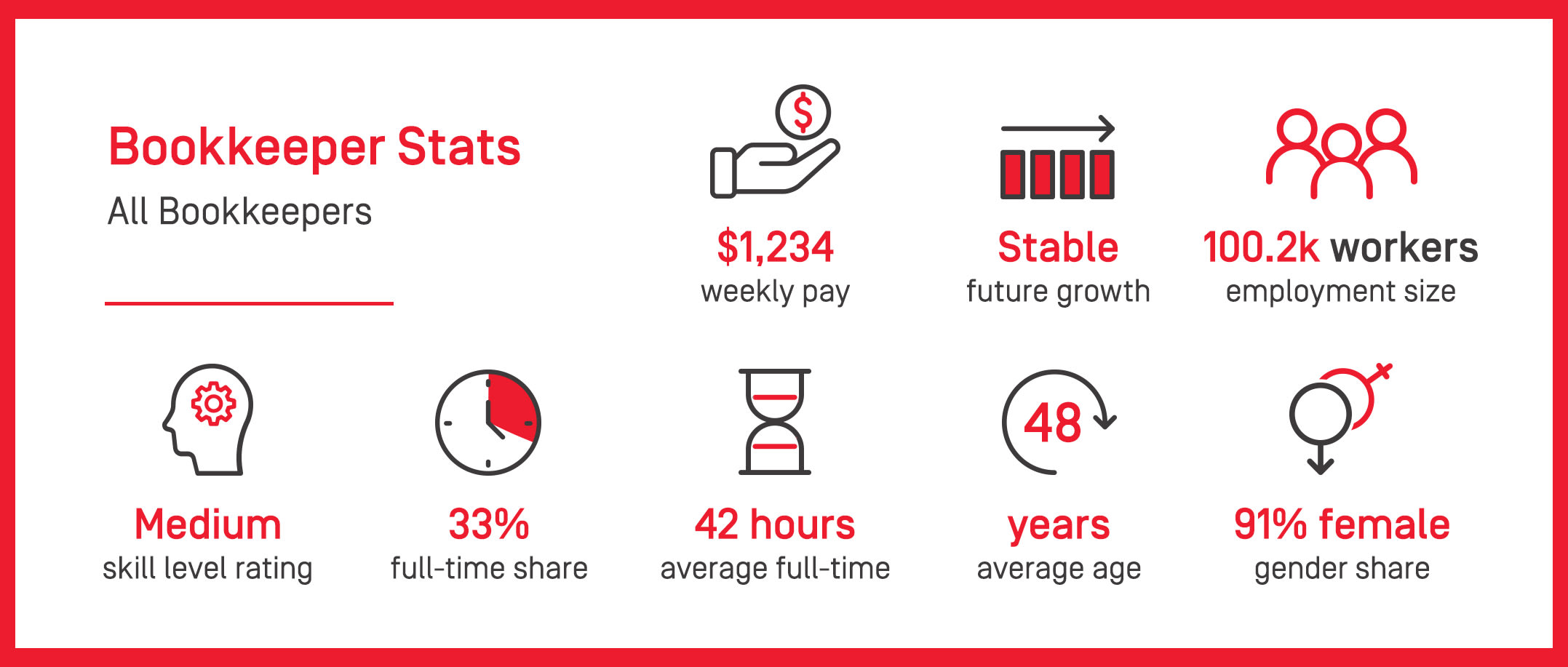 source: joboutlook.gov.au
What skills do you need to be a bookkeeper?
Bookkeepers must have a good working knowledge of clerical duties such as data entry and word processing, economics and accounting, as well as computer hardware and software. In addition to this, the following skills are important:
Why study bookkeeping through Swinburne Open Education?
Obtaining a FNS40222 Certificate IV in Accounting and Bookkeeping through Swinburne Open Education is not only a great way to learn the fundamentals of bookkeeping, but will also help you stand out in a competitive industry. Swinburne Open Education qualifications are nationally recognised and our flexible course structure and learning platform allows you to achieve your career goals by fitting your studies around your busy life.
Bookkeeping career FAQs
No degree is required to provide bookkeeping services in Australia, but in order to establish your own bookkeeping business, you may need some additional skills. For instance, in order to provide Business Activity Statement (BAS) services, you must be registered as a BAS Agent. Bookkeepers who wish to register as a BAS agent must have a Certificate IV in Bookkeeping and Accounting as well as 1400 hours of experience.

Although no degree is required to become a bookkeeper, it is useful to acquire some bookkeeping training beforehand. A Certificate IV in Accounting and Bookkeeping meets the registration requirements to provide BAS services.
One of the perks of working as a freelance bookkeeper is that it affords you the freedom to work remotely from anywhere and decide your own hours.
Completing a Certificate IV in Accounting and Bookkeeping generally takes between 12 and 18 months.
Conclusion
If you're interested in numbers and are looking to build a career in an industry with stable future growth and opportunities to work from anywhere in the country, bookkeeping could be an excellent option. Want to know more? Get in touch with one of our trainers to discuss the next steps and make a plan to start working towards your career goals.