With an excellent employment outlook and opportunities to work in different industries and parts of the country, accountancy is a popular career choice in Australia.
Accountants look after a wide range of financial operations and are essential for any business, whether a multinational corporation or a start-up company.

Wondering how to become an accountant? Read on to learn about everything from accountant salary and job opportunities to the qualifications and skills you'll need.
How to become an accountant
The minimum qualification needed to become an accountant in Australia is a diploma of accounting. Although many accountants complete a bachelor's degree in accounting, you don't necessarily need one to work in an accounting role.

If you're not ready to complete a bachelor's degree, you can also choose to upskill with a nationally recognised certificate course. Accountants must also register with one of Australia's three professional accounting bodies. 
Accountant salary
An accountant salary varies depending on a worker's level of education, skill and experience, as well as the demands of the job. On average, full-time workers on an adult wage can expect to earn around $1,660 per week.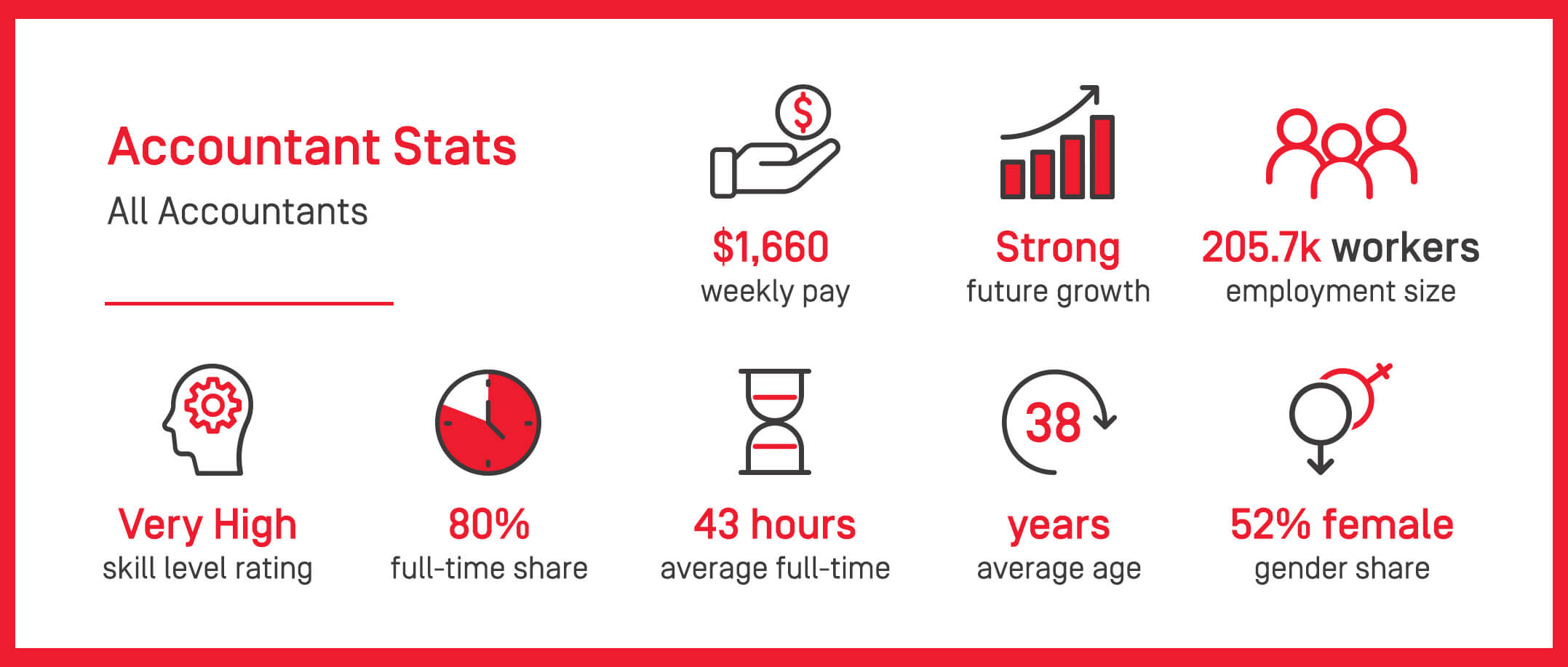 source: joboutlook.gov.au
What skills do you need to be an accountant?
In addition to knowledge of economics and accounting, banking and checking, and reporting financial data, the following skills are important for accountants to develop: 
Critical thinking and problem solving

Mathematics

Reading comprehension

Oral and written communication skills

Organisational skills
Why study accounting through Swinburne Open Education?
Studying accounting and bookkeeping with Swinburne Open Education is a great way to kickstart your career as a bookkeeper or even acquire the skills you need to manage your own business.

Alternatively, if you're looking for a pathway into a degree program, an FNS40222 Certificate IV in Accounting and Bookkeeping is a great option, as it allows you to learn flexibly alongside your existing work and family commitments.
Accountant career FAQs
Accounting is a fast-growing occupation that allows you to work in almost any industry, from fashion to entertainment to the non-profit sector. An accountant salary in Australia is above average, and your services will always be in demand.


Although you don't need a degree to work in an accounting role, there are three professional bodies in charge of regulating the accounting industry in Australia; the CPA, ICAA and IPA. To register with the CPA or ICAA, you will need a bachelor's degree. To register with the IPA, you will need a diploma of accounting.


There are a few ways an accountant's job may differ from a chartered accountant's job, but one big difference is that a chartered accountant must be registered with the Institute of Chartered Accountants of Australia (ICAA). To become a member of the ICAA, an accountant must have a bachelor's degree in accounting as well as three years of work experience alongside a Chartered Accountant.


Both Chartered Accountants and Certified Practicing Accountants (CPAs) are highly qualified professionals who can provide a range of financial services. The main difference is that a chartered accountant tends to focus on the technical aspects of accounting and taxes, whereas a CPA tends to focus more broadly on business management and may be able to offer advice on business planning, marketing and more.


Conclusion
As you can see, accounting can be rewarding career choice, with an excellent job outlook, above-average salary, opportunities for advancement, and the possibility of working in a variety of industries.