A disability support job involves giving persons with physical and intellectual disabilities care, emotional support, supervision, and practical aid. You need specific skills and knowledge to secure a disability support job in Australia.
Are you interested in getting a disability support job in Australia? Keep reading for more details on disability jobs, skills, and salaries.
How To Get A Disability Support Job
The most efficient pathway to getting a disability support job in Australia involves one or a combination of the following:
Study
Studying provides you with qualified training and support in individual disability services. Potential employers will recognise your commitment to your job through your certifications. You can choose to study online for more flexible schedules and still become job-ready.
A nationally accredited Certificate III in Individual Support (Disability) from Swinburne Open Education is a great place to begin this journey. This nationally recognised certification offers technical and soft skills, knowledge, and values to support and empower disabled persons to lead better lives.
With this online course in community services, specialising in disability, you can get job-ready while studying from home or remotely. You get equipped with skills and knowledge to serve people with disabilities in residential, healthcare, community, or NDIS settings.
Gain experience and self-promote
You need to gain hands-on experience serving people with disabilities to increase your chances of employment. Look out for volunteer jobs or internship opportunities to practise your skills and increase your knowledge. This helps you build and diversify your portfolio before getting a real job.
Regularly update your LinkedIn profile, as this is where prospects find employees nowadays. You can join a client group or network with other healthcare professionals to market yourself and expand your connections. Meaningful connections in the disability support field can help you find job opportunities and other avenues for career development.
Disability support job salary
The average adult salary for a disability support worker in Australia is $45,000 annually, with median full-time weekly earnings of $1,382. This is based on an average of 43 working hours per week. The hourly median rate for this type of work is $36 per hour. Earnings can increase depending on experience levels and industry.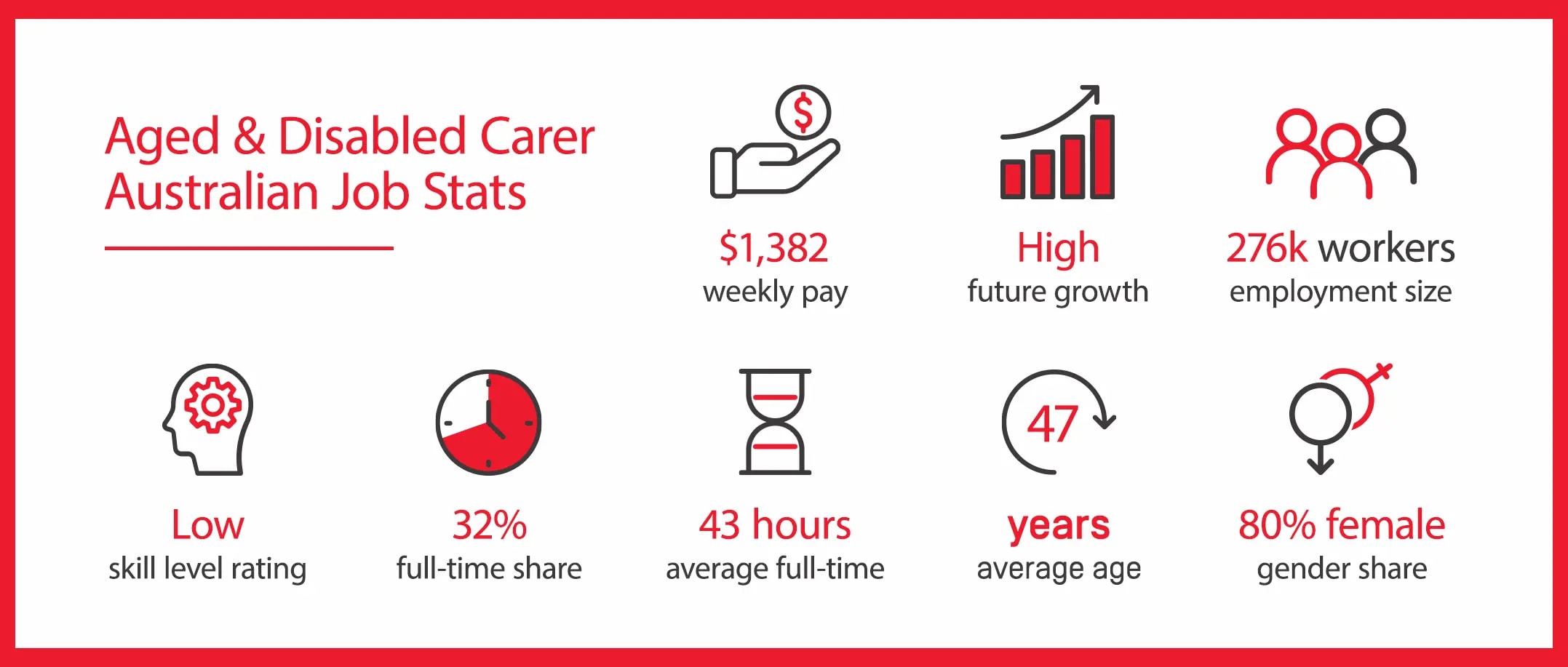 Leading industries that employ disability support workers are:
Healthcare and social assistance

Administrative and support services

Public administration and safety

Education and training
What skills do you need to get a disability support job?
The disability support industry is a demanding niche. A disability support worker's skills are crucial when caring for others. To fulfil your obligations in the disability support field, you will need to use a mix of soft and hard skills. Building your abilities beforehand will help you as a disability support worker.
As a disability support worker, you will need to have the following skills to succeed in your job:
Good communication skills (active listening and speaking)

Comprehensive reading skills

Service-oriented skills

Relationship-building skills

Appreciation

Empathy

Organisation

Critical thinking

Self-care

Cultural competence

Patience

Independence
Why study disability support through Swinburne Open Education?
Swinburne Open Education collaborates with leaders in the community services and disability sector to design courses that give you the advanced skills you need to stay competitive. You may access online disability support educational resources and study from home, thanks to the Swinburne Open online learning platform.
Here is why you should consider Swinburne for your disability support study:
Get the most assistance and study time when it's most convenient for you.

Gain the nationally accredited CHC33021 Certificate III in Individual Support (Disability) 

Be equipped for Australia's competitive and expanding disability support sector.

Receive assistance in achieving your goals from trainers who are reachable by phone, text, or video.

Access a world-class online learning platform from anywhere at any time.
This Certificate III in Disability Support course offered by Swinburne Open Education covers units such as:
Recognising healthy body systems

Following safe work practices for direct client care

Supporting independence and wellbeing

Communicating and working in health or community services

Working with diverse people

Working legally and ethically

Providing individualised care
This 18-month course prepares you for career options and jobs such as:
Disability support worker

Personal care assistant

Residential care officer

Accommodations support worker

NDIS support worker
Qualification training is an excellent pathway to learning the basics of individual disability support. Swinburne Open Education is dedicated to providing the best possible start.
Disability Support Career FAQs
Workers in the disability support field assist elderly and disabled persons with various daily duties. These may include the following;
Facilitating personal hygiene

Assisting with movement

Performing household chores, including cooking and cleaning

Planning social gatherings

Monitoring and reporting clients' progress

Assessing, planning, and implementing support programs that meet clients' needs

Supporting families

Providing education and care for people with disabilities in their different settings
Working as an individual disability services provider can be incredibly fulfilling. You interact with different people and tackle new daily challenges that help you build a good portfolio.
Depending on their condition, some of your clients may need more help than others. Collaborating with your clients can lead to developing enduring bonds with them. As you enable them to lead fulfilling lives, you get a sense of satisfaction. You also gain invaluable experience in empowering and supporting disabled people in the community outside of work.
Completing a Certificate III in Individual Disability Support gives you insight into the community services industry. The skills you learn are an excellent place to start your career caring for disabled people in a compassionate and empathetic way.
Obtaining a degree is not a must for a career in the disability support sector. But if you want to increase your competitiveness and job opportunities, it may be worth considering a degree in further study.
It is possible to work as a disability support worker without experience, though such opportunities are limited. Qualifications like Certificate III in Individual Disability Support empower you to diversify your portfolio and search for high-paying jobs. The more qualifications and experience you have, the higher your chances of employment.
Do you need more information about your career choices? Contact Swinburne Open Education to plan your next steps towards a fulfilling career of your choice.
Related How-To Articles