Childcare is a rewarding job in Australia. You get to provide care for children and watch out for their general well-being. You can work in a private or government setting, which may include a home, kindergarten, or childcare centre. While supervising children of varying ages, you'll get to teach them basic life skills and help them learn and grow both as a child and in their education. 
If this is a field that excites you, read on for information about becoming a childcare worker, what's involved in the job, required skills, and possible salaries. 
How To Become a Childcare Worker
Being a childcare worker comes with a responsibility to children. Australia requires a certain education for individuals looking to work in the field. 
All childcare workers must have a Certificate III in Early Childhood Education and Care (CHC30121) and a current Working with Children Check. This certification provides you with the skills you need to communicate and play with children, as well as provide them with learning experiences and help meet their basic needs.  
There are additional courses available to study and help further your education or childcare career options, after the Certificate III course. Swinburne Open Education also offers the Diploma of Early Childhood Education and Care (CHC50121) online. 
Another highly recommended course for childcare workers is a first aid certification with CPR, anaphylaxis, and asthma training. Some courses do include the first aid certification with their certification. 
Gain relevant experience and self-promote
Gaining hands-on experience is the best way to learn about the childcare industry in Australia. Experience helps you build a portfolio for future employment. It'll show future employers that you take your child caring job seriously and are capable of doing your job well. 
Brush up on interview skills and resume writing before you start looking for a job. Consider doing some volunteer work towards the end of your schooling. Often these types of opportunities can lead to a full-time position after you receive your certification or diploma. 
Be prepared to meet with prospective employers and discuss options and details of a job. Schools and education providers may have assistance programs to help with this. Also, update your Linkedin profile to show your credentials and certifications. This will help draw attention to you in the childcare market. 
Childcare Worker Salaries In Australia
The average salary for a childcare worker in Australia varies. As you gain experience and longevity at your place of employment, salaries increase. Over the next 3 years, the job market for childcare workers is expected to increase by 5.9 per cent nationally, increasing the demand for workers in this industry.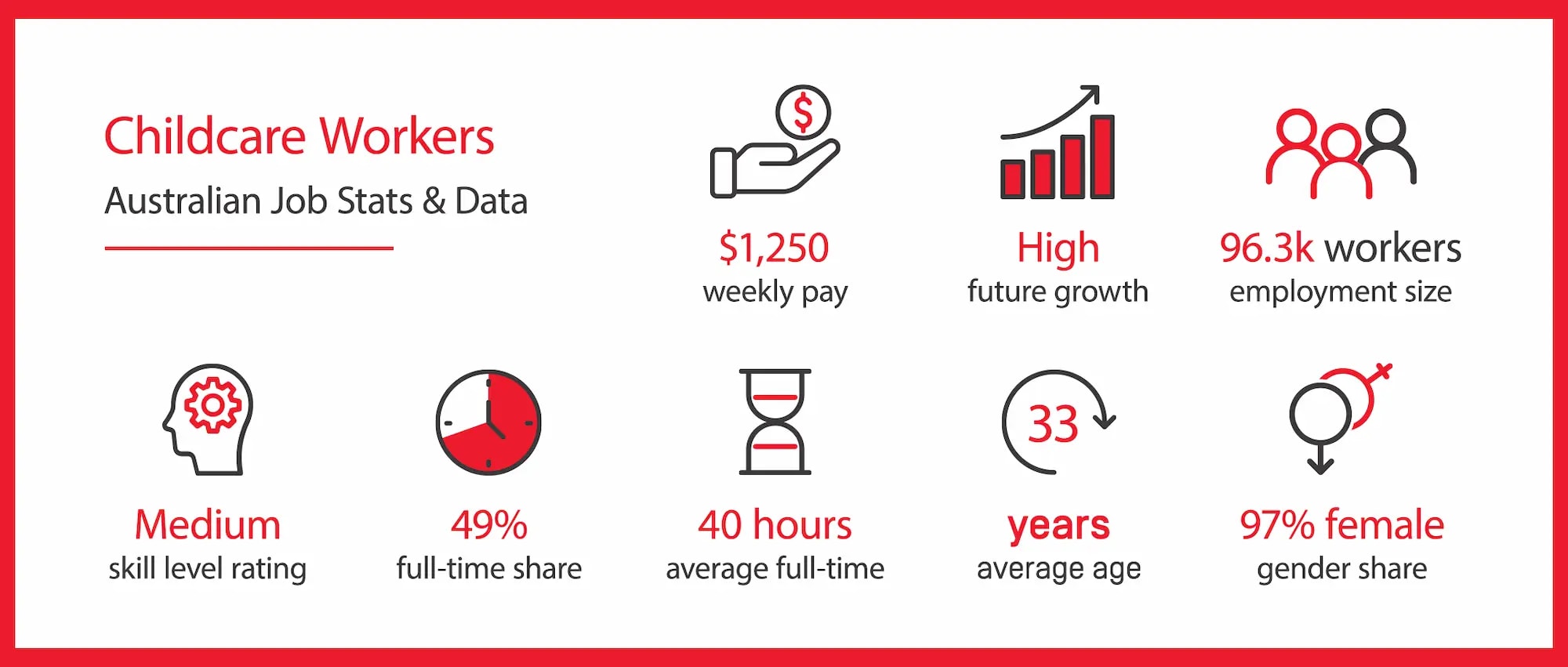 Source: Labour Market Insights
What Skills Do You Need To Be a Childcare Worker?
As a childcare worker, meeting the needs of children is important. Employers are looking for the following skills that help with this:
Strong communication skills with both children and adults

Patience and understanding with small children

Creativity

Enthusiasm for the job

Organisation of property 

Decision-making and leadership skills

Problem-solving and being able to think on your feet

Compassion and caring
Why study to become a childcare worker through Swinburne Open Education?
Swinburne Open Education programs provide you with the foundation you need for a career in the childcare field. The course is set up so you can study online when it fits your schedule, and you have access to experts in the field. You'll get both qualified training and support while going through this study-from-home course. 
You'll gain a nationally accredited certificate with our Certificate III in Early Childhood Education and Care (CHC30121), and you'll be job ready after the course. Following this, you can also undertake study in the Diploma of Early Childhood Education and Care. 
The course contains units that will help you learn to support children's health, safety, and well-being, nurture toddlers and babies, develop positive relationships with young kids, and support children's play and learning. You'll also learn the business side, such as meeting legal and ethical obligations and participating in workplace health and safety.
Swinburne Open Education programs are developed with the help of industry leaders, so you are always learning the most current and needed skills for your future employment. This study-from-home online course will qualify you for entry level positions in the childcare field, including early childhood education, family daycare education, and out-of-school hours care education. 
Childcare Career FAQs
Yes, you can work as a childcare worker without any previous experience in the field as long as you have the Certificate III in Early Childhood Education and Care. Some childcare centres will also offer internships or volunteer positions while you are getting your education, so you can have hands-on experience after you receive your certification.
Enrolment in our Childhood Education program is easily done. Head to a course page and click the 'Enrol Now' button. An enrolment consultant will be in touch with you shortly to complete enrolment. If you have questions, you can contact our enrollment centre on 1300 645 072.
Swinburne Open Education programs are delivered online, giving you the opportunity to study at home, the library, or any place that is convenient for you. You will complete all of your knowledge and skills development through our study online programs. The course is self-paced and can be accessed on your desktop computer, laptop, tablet or smartphone, giving you the flexibility you need to complete the course on your timeline.
The duration of our certification is 18 months of online study time. You may take longer if you need to pause studies, to work around your life.
Study Online via Swinburne Open Education
If you're looking for a childcare career in Australia, now is the time to get started. Our nationally accredited childcare course allows you to study from where you live or work, anywhere in Australia. If this is the opportunity you've been looking for, get in touch with a Swinburne learning expert to discuss enrollment and get started on studying towards your new childcare job or career. 
Related How-To Articles
How To Get A Disability Support Job