With cybercrimes in Australia costing an estimated $1 billion per year, the government and businesses are taking proactive measures to step up IT security at all levels. The need for stricter cybersecurity protocols has never been greater now that remote work has become more common.
The need to protect the public and businesses from cybercrimes comes with the requirement for competent cybersecurity professionals. If you want to get a job in the cybersecurity workforce, then this guide is for you. Here, you'll find information on the requirements, salary and steps you need to take to become a successful cybersecurity professional in Australia.
How to get a cybersecurity job in Australia
Like any job, cybersecurity work requires people with the right educational background and experience.
Study A Cyber Security Course
People tend to lump IT professionals into one role, which typically boils down to being skilled or having knowledge of computers or programming. This is certainly a role in IT, however the field of information technology offers a broad range of specialist career options, one of which is dealing with security.  
While having an IT background is a good foundation for cybersecurity education, the focus of this particular area of study is data protection and network security.
Completing the BSB40120 Certificate IV in Business (Cyber Security) is a great jump-off point for a career in cybersecurity.
In the above online course, you'll learn about:
Maintaining the security of digital devices

Evaluating and handling cybersecurity threats

Promoting workplace IT security awareness and best practices
Gaining experience and self-promote
Hands-on experience in a cybersecurity or a related role gives you an edge over less experienced candidates and fresh graduates.
If you have little to no field experience, you can build up your resume by taking on an internship or volunteer work. Make sure you highlight these items in your LinkedIn profile to attract prospective employers and recruiters.
You can also start following cybersecurity experts and companies to get the latest updates, news and trends, as well as job postings in your chosen field.
Cyber Security Salary Guidance
According to the latest PayScale data, the average annual salary of a cybersecurity analyst in Australia is $78,269, with the lower limit as $54,000 and the upper limit being $117,000 per year.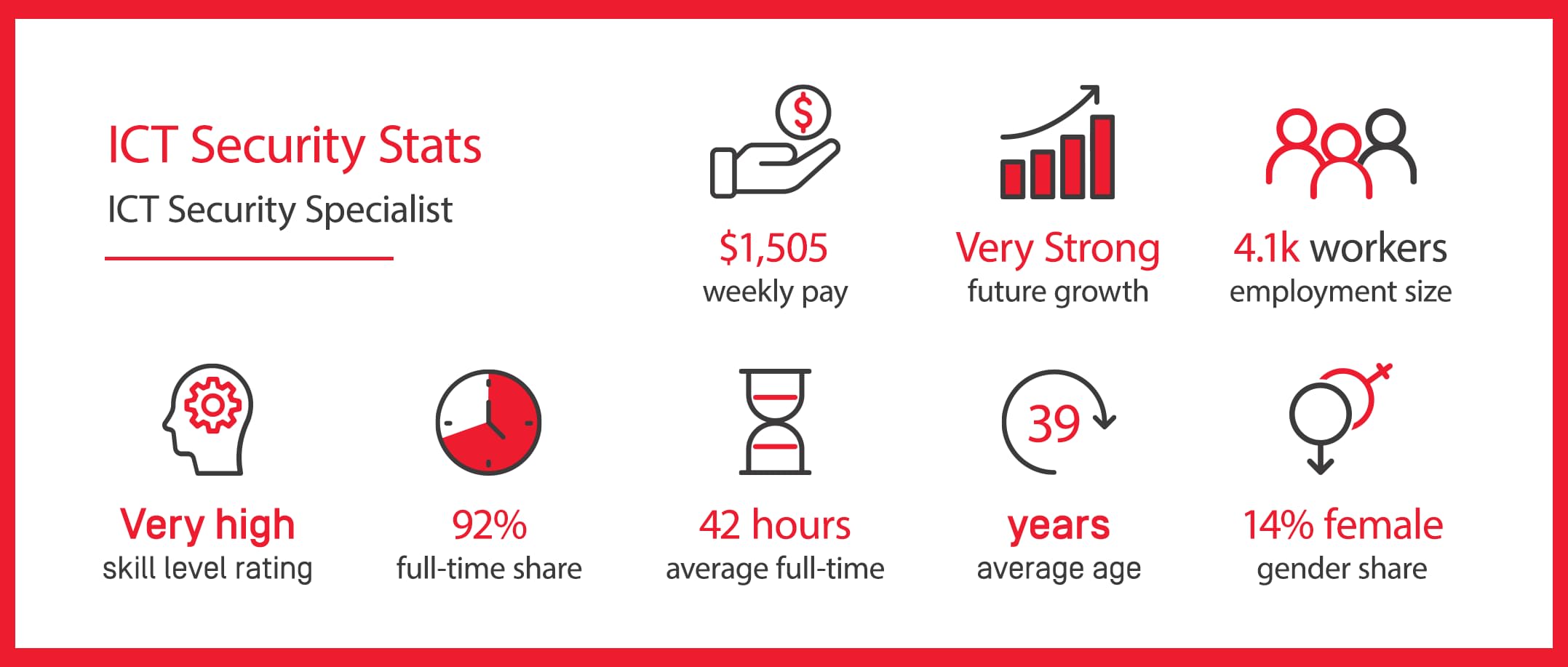 source: labourmarketinsights.gov.au
For a higher-level role like a cybersecurity specialist, SalaryExpert data shows that the average salary per year for this post is $151,791. Entry-level applicants can expect a salary of around $107,032, while highly experienced candidates can expect to earn about $188,544 per year. However, this role requires a bachelor's degree as a minimum.
Of course, both your job prospects and prospective salary depend on your experience, qualifications, responsibilities, and the company hiring you.
What skills do you need to be a cybersecurity professional?
To succeed as a cybersecurity professional, you're required to possess a particular set of skills.
There are two skill sets you should work on acquiring or strengthening:
Technical know-how: Having the requisite technical knowledge is an absolute necessity in any IT role, including cybersecurity. Aside from this, you also must possess logical reasoning, problem-solving and troubleshooting skills. 
You also need to be resourceful, as you have to stay updated on the latest trends, issues and technologies that have an impact on your field.
Soft skills: While you may work as part of a team, you'll be expected to be able to work with minimum supervision. This requires you to be an independent self-starter with the initiative to perform your duties. You also need to have customer service and communication skills, as you'll be dealing with not only other employees in your company but also your boss, vendors and clients. 
Excellent written communication and documentation skills are also required, as you'll be tasked to create incident reports and other documents. If you want to advance in your career, leadership skills are sure to help propel you forward.
Why study to become a cybersecurity professional through Swinburne Open Education?
Via online study and learning, obtaining your BSB40120 Certificate IV in Business (Cyber Security) at Swinburne Open Education gives you access to comprehensive and in-depth lessons and high-quality study materials that'll serve as the foundation of your cybersecurity career. Completing this program also means you gain a nationally accredited certificate.
Swinburne Open Education is a nationally recognised education provider in Australia, so studying here can help open doors for you with flexible online study options which fit around your schedule. 
Taking this cybersecurity course offers you the flexibility to study from home or just about anywhere at your convenience. You're also guaranteed to receive qualified training and support from our expert lecturers to get you job ready once you complete the program.
Career FAQs
Yes, with the continued dependence of businesses and other establishments on the internet and the constant presence of cyber threats, a job in cybersecurity is a great career choice.
By working as a cybersecurity professional, you're able to help in protecting enterprises from cybercriminals. Plus, the ease of access to education and certifications from organisations like Swinburne Open Education, the decent income, and the workplace culture make jobs in cybersecurity highly desirable.
No, you don't need a degree to find work in cybersecurity. For example, finishing the BSB40120 Certificate IV in Business (Cyber Security) program at Swinburne Open Education gives you access to a range of cybersecurity roles.
However, if you're aiming for higher-level posts such as those of a cybersecurity architect or network security engineer, you'll need a bachelor's degree as a minimum.
There are also advanced certification programs you can look into later after gaining some solid experience in a cybersecurity role, such as the Certified Information Systems Security Professional (CISSP), Certified Information Systems Auditor (CISA) and Licensed Penetration Tester (LPT).
Once you complete your BSB40120 Certificate IV in Business (Cyber Security), you can apply for the following job roles:
Assistant security analyst

Incident responder

IT service desk support

Business operations staff

Network support 

Team leader 
Cybersecurity professionals remain to be in high demand as all establishments that conduct their business or operations online need security and protection.
If you're contemplating this career choice, you can enrol today or contact Swinburne Open and our team can provide further information on next steps you can take.
Related How-To Articles
How To Become An Personal Assistant