One of the biggest challenges that most businesses face in 2023 and beyond, is dealing with supply chain issues. Procurement specialists play an essential role in meeting these needs. They identify suppliers, negotiate purchasing agreements and ensure the supplies meet company standards.
Procurement managers have many responsibilities. They must work closely with other departments and customers to ensure the goods they purchase meet specific quality standards. They must develop strategies to ensure inventory levels are adequately stocked at the lowest possible cost. Furthermore, procurement managers must keep detailed records of purchases for tax, liability and internal financial reporting purposes.
How to become a procurement specialist
Study
There are no formal, universal education requirements to get a procurement job in Australia. However, people with vocational education and training or a university degree tend to find employment in the procurement profession more easily. According to Labour Market Insights, 64.6% of procurement specialists have at least a Certificate III/IV or university education. (1)
People with a background or education in business management or a related field have an easier time trying to get a job in procurement.
Gain experience and self-promote
People have an easier time getting a procurement job if they have experience in a related field. The best fields include business management, purchasing, warehousing and distribution.
Procurement job salary
The average adult salary for a full-time procurement job in Australia is $2,698 a week before taxes(1). The median hourly wage for procurement specialists is $71. To put this number in context, this is 71% higher than the median hourly wage of all jobs. The average salary of a procurement manager is over 69% higher than the weekly average wage of $1,593 a week for all full-time workers.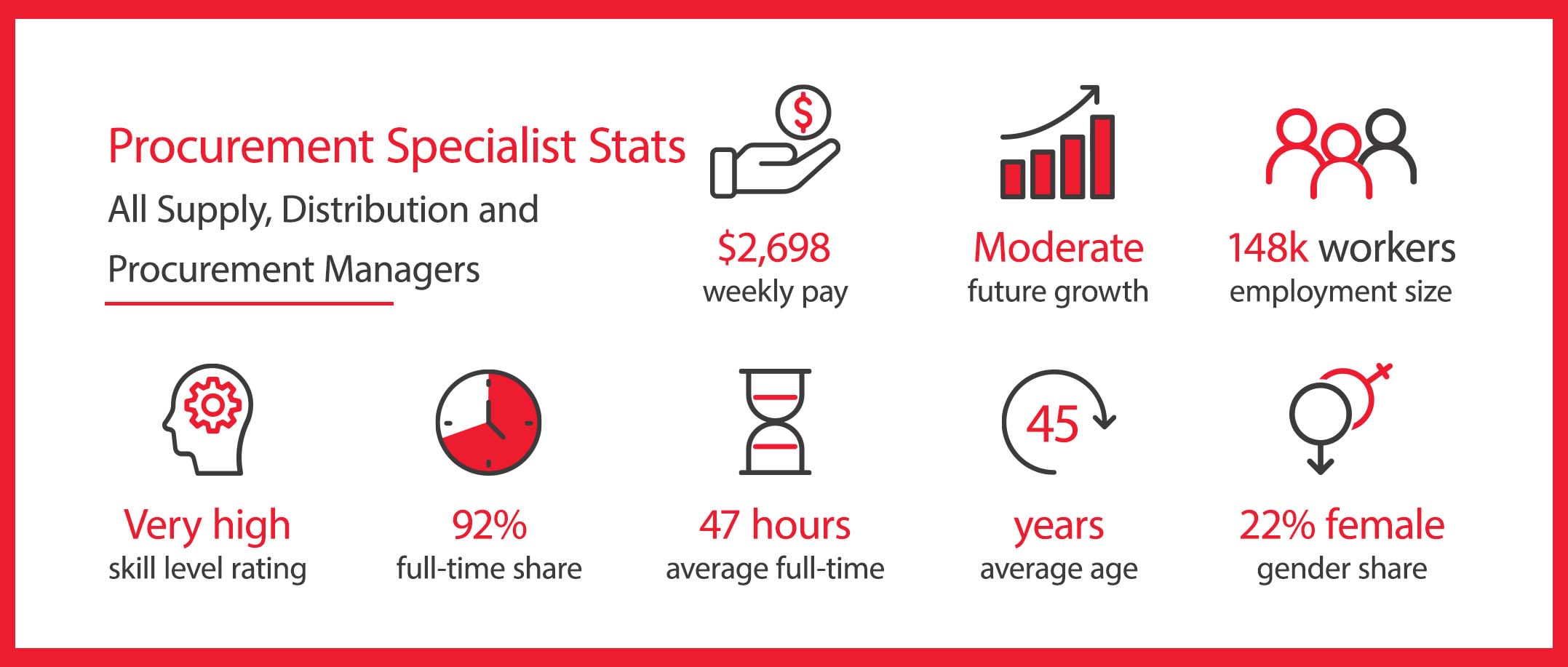 source: joboutlook.gov.au
Procurement professionals work an average of 47 hours every week, which is three hours more than all other jobs.
The exact salary in a procurement job depends on a variety of factors. These include prior experience, the industry, job performance and educational attainment. Procurement specialists that focus on improving their education will have an easier time getting raises and enjoy better job security
Employment outlook
There are currently 148,700 people working in procurement manager jobs in Australia (2). This figure is growing by 3.5% a year.
What skills do you need to get a procurement job?
You will need the following skills to get a procurement job in Australia:
Interpersonal skills to build strong relationships

Negotiation skills to secure goods at the lowest possible cost

An understanding of economics to assess global supply chain issues

Quality assurance skills to ensure goods will meet the minimum requirements of your employer

Leadership skills if you need to direct other procurement specialists

An understanding of contracts and the ability to communicate with internal legal experts

A willingness to travel to meet new suppliers

Accounting and financial competencies to read and analyse financial reports and pricing recommendations

Detailed knowledge of the industry

A desire to continue developing new skills to deal with ongoing changes
Why study to get a procurement job through Swinburne Open Education?
You don't technically need a degree to get a job as a procurement specialist in Australia. As the labour market becomes more competitive, employers might be more likely to require a degree. According to data from Labour Market Insights, 21.8% of people with procurement jobs have a bachelor's degree, 11.6% have an advanced diploma, and 10.1% have a postgraduate diploma. Another 21.1% have a Certificate III/IV (1).
Swinburne Open Education offers a Certificate IV in Business Procurement. If you want to gain a nationally accredited certificate, Swinburne has the perfect program. The instructors offer qualified training and support. While you could pursue other degrees, this is the best program for people who want to get job-ready for a procurement job as a purchasing officer, procurement officer, warehouse team leader, distribution centre supervisor or a similar position. 
The core units covered in Certificate IV in Business Procurement course focus on relationship skills, procurement practices, contract development and document construction and management. The course also allows you to study online and from home, at your own pace.
Procurement Job Career FAQs
While a degree is not necessary to get a job in procurement, it can be beneficial. However, the BSB40120 Certificate IV in Business Procurement course teaches numerous real-world skills necessary to succeed in a procurement job. The skills attained through participating in this certificate program can be readily applied to solve everyday challenges that you encounter in a procurement job or role. This online course emphasises theoretical practices that can be transferred to real-life problem-solving.
If you want to get a procurement job, you may also consider getting a bachelor's degree in business management or a related field. However, a Certificate IV in Business Procurement can be very beneficial on its own.

Procurement managers and specialists have a variety of responsibilities. For example, they will need to create purchase plans, oversee procedures for purchasing new goods, monitor inventory, evaluate procurement requests and ensure transaction records are accurate and complete.
Every employer has unique requirements for procurement jobs. Although you don't necessarily need specific experience, most procurement specialists have prior experience in purchasing, warehousing or other supply-chain-related occupations. You may have an easier time getting a procurement job without experience if you have a Certificate IV.

Procurement specialists are well compensated and have good job security. They also get to work with a variety of interesting people on a regular basis and often have the opportunity to travel.
Are you interested in trying to get a procurement job in Australia? There are many benefits to choosing this career path. However, you will need to be familiar with your future role and responsibilities. To develop the skills necessary to succeed as a procurement specialist or manager, contact Swinburne Open Education to learn more about the Certificate IV in Business Procurement online course.
Related How-To Articles
How To Become An Personal Assistant
How To Get A Cybersecurity Job